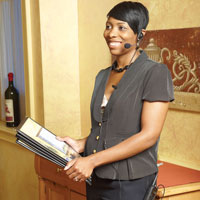 Kenwood has the recipe for the best on-site communications. Greeting, seating and serving customers is easier and faster with Kenwood ProTalk® radios. Compact and durable, Kenwood ProTalk® radios are affordable and easy to use.
Restaurants typically choose small, lightweight radios. Single channel radios are adequate for many situations, but multi-channel models may be helpful if you have several groups that need to have separate communications.
Because range/power isn't usually a factor, restaurants often consider less expensive consumer radios. We recommend business radios, as they are designed for everyday use and use more exclusive frequencies that help eliminate interference.
Don't forget to ask for the special restaurant package that offers a choice of lightweight headsets.